XVI International Conference "EUROPEAN RUSSIAN STUDIES AND MODERNITY" – 11-13 September 2019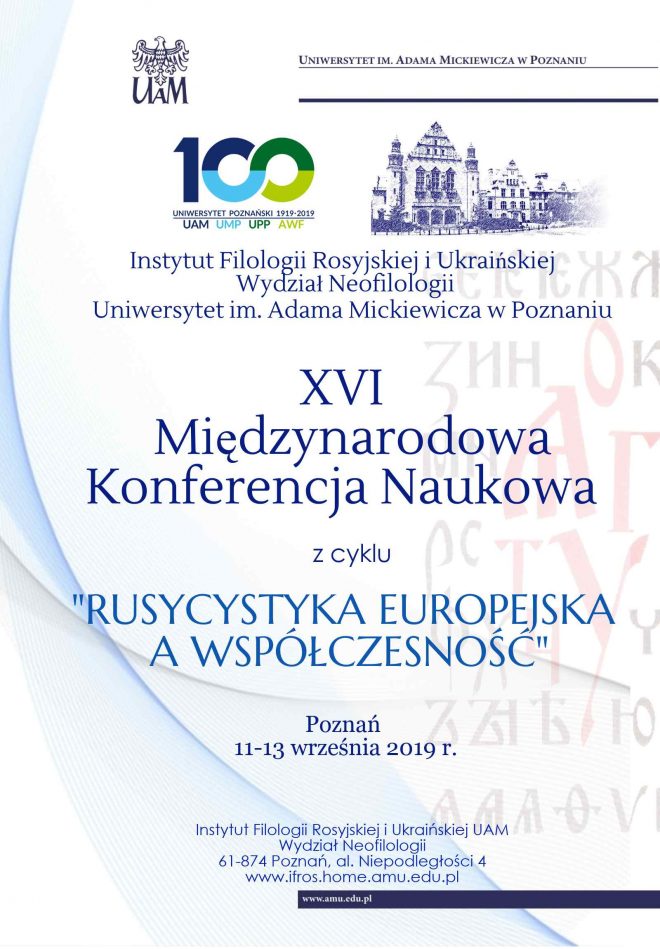 SESSION I
LINGUISTICS
RUSSIAN LANGUAGE IN COMPARISON WITH OTHER LANGUAGES
We propose to discuss the following questions: similarities and differences between two (or more) languages on all their structural levels (including phonetic, phonological, lexical, phraseological, morphological, word formation, syntactic, and stylistic levels); phenomena of interlinguistic congruence, equivalence and lacunarity; divergence and convergence between languages; notional categories and their corresponding grammatical and word formation categories; functional-semantic, lexical-semantic and conceptual fields; ways and aspects of using research findings in foreign language teaching, in theory and practice of translation and also in creation of bi- or polylingual dictionaries of different types.
SESSION II
LINGUISTICS
LEXICAL INNOVATIONS IN CONTEMPORARY RUSSIAN AT THE TURN OF THE 20TH AND 21STCENTURIES
We are planning a discussion on such questions as the following: language borrowing processes; semantic changes in lexicon; stylistic changes of words; new word formation models; semantic specialization of derivational morphemes; processes of turning multi-word lexical units into single lexemes (univerbation); occasional word formation; lexical and phraseological contamination; word formation and stylistics, etc.
SESSION III
LITERARY STUDIES
IRONY IN LITERATURE
Irony has always been present in literary texts. It is a specific form of expression by means of which authors presented their views on the surrounding reality, in particular the reality they perceived in a critical way. Russian litearture is a perfect example of the realization of this strategy, especially the works of such masters as Denis Fonivizin, Vasili Zhukovski, Alexander Pushkin, Nikolai Gogol and Nikolai Nekrasov. The twentieth century, especially the Soviet period, revealed the whole constellation of literary ironists from Mikhail Bulgakov through Vendedict Yerofeev. The latter as one of the pioneers of Russian postmodernism affected the understanding of this category in the works of contemporary authors. The problem of irony is an attempt to continue the considerations related to parody, which was one of the main subjects discussed at previous editions of the conference entitled "European Russian Studies Nowadays".
SESSION IV
COMPARATIVE LITERATURE AND CULTURAL STUDIES
REASON IN RUSSIAN CULTURAL SPACE
Celebrating the 100th anniversary of the Adam Mickiewicz University, we would like to address the issue of Reason and its functioning in Russian cultural space as the subject of comparative literary and cultural reflection. The semantic capacity of the above mentioned category offers a multifaceted space of exploration for researchers in the fields of Russian literature, culture and art of various periods of Russian history. The distinctive position of apophatic thinking in the area of focus allows to pinpoint the dichotomy between emotions and reason as a productive direction of analysis, as well as the dynamic opposition between Slavophiles and Westernizers deriving from it, which appears to be reflected in literature and art. The above-mentioned issues may also encourage artistic reflection on the phenomenon of the Russian Intelligentsia. When civil liberties are endangered high abilities and mental dispositions become vital privileges extending individual freedom, the core of responsibility and utmost concern within a country. In this context attention can be drawn to protagonists endowed with the unusual ability of self-reflection, characters who struggle to grasp the meaning of the surrounding world and try to create coherent identities. Problem areas indicated above should only be treated as the sample of examples of possible considerations, we warmly encourage and welcome other topics concerning the wide range of phenomena inspired by the main problem.
SESSION V
LINGUODIDACTICS
LINGUISTIC AND CULTURAL PARADIGMS AS DETERMINANTS OF MASTERING RUSSIAN AS A FOREIGN LANGUAGE